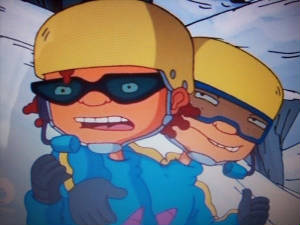 I'll list 5 things that a character might say. Email at
bullrose5@yahoo.com
, if you want to add anything. Click
here
for the archive.
From Laura: Warning, PG-13.
1. OTTO: "TWISTER, DON'T EVEN THINK ABOUT JAMMING THAT THUMB WHERE I THINK YOU'RE ABOUT TO JAM IT!"

2. TWISTER: "You've been a naughty boy, Otto!"

3. REGGIE (on the side): "Where is Otto's hand, and why is Twister smiling?"
SAM: (on side, next to her): "ALRIGHT, it's YAOI TIME!"

4: OTTO: "Twister, if I feel anything pressing into my thigh, I'm gonna leave your ass on the mountain!"

5. TWISTER: "Giggity goo. Alright!"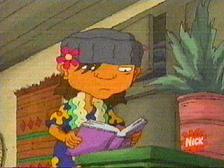 I'll list 5 things that a character might say. Email at
bullrose5@yahoo.com
, if you want to add anything.
From Laura:
I got a few for Lars reading the books.

1. Crap, there's no naked ladies in here!

2. Oh.....so that's where babies come from.

3. I know Mom was young and needed the money, but I'm NEVER reading PlayBoy again!

4. Michael Jackson's Biography....(reads)....maybe I should send Twister to Neverland Ranch!

5. "Halloween Havoc" by Aaron and Laura....(reads)....THEY PUT ME IN A DIAPER! OH THEY GONNA PAY!!!

5. Maybe reading will get me a girlfriend?
4. This book has NOTHING on how to torture a little brother!
3. Maybe if I would read more, I'd pass geography!
2. I hope none of my friends catch me reading!
1. I still can't believe Chicago is a city!